The All-New 2016 Chevrolet Cruze
March 16 2018, Surgenor Gatineau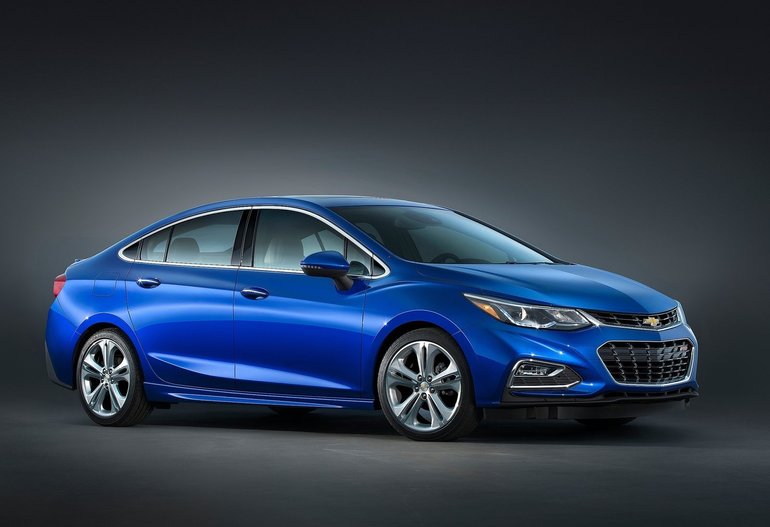 Are you looking for a car that looks like it was hand-picked right out of the future, and offered to you for an affordable price? The All-New 2016 Chevrolet Cruze has a brand new look compared to the previous rendition of this model, and it offers a ton of new technology on the inside. When one looks at this car, one might think that it's a luxury vehicle, and that it would run for 30, 40, or even 50 thousand dollars with the right options installed.
There was even a commercial that Chevy released for this car where they took off all of the branding, leaving just the car as it was but with no logo. The people invited to guess about what brand it was all guessed a luxury car company, but were astonished to find out that Chevy made the vehicle.
The Look
The new look of the car is truly beautiful. It does look like a luxury vehicle, as the entire front end has been completely redesigned. White and black color options look great, but the more bold colour options such as blue make a statement. Leather seating truly makes the vehicle feel exquisite, and you can get the seats in a nice burnt tan or classic black.
Technology
This car comes equipped with full smartphone connectivity in your dashboard via Apple CarPlay and Android Auto. Both of them have your entire smartphone available hands free on your dashboard, something a lot of luxury cars haven't even implemented yet. The touch screen display is almost like having a tablet in your dashboard.
On top of that, the car has the technology available to enable a 4G LTE hotspot, and a data plan of 24 gigabytes is included with the purchase of a brand new Cruze. The Cruze is the first car in its class to offer a hotspot in the car.
Heated front and rear seats, as well as a heated steering wheel are all available with the Cruze.
Lastly, there are wireless charging docks and Bose speakers that are available, taking technology in your vehicle to the next level.
Specs
The Cruze comes with a 1.4 liter turbo engine, which can run at 153 horsepower. The turbo engine is designed to be powerful yet efficient, which enables the vehicle to get an incredible 42 miles per gallon on the highway.
This vehicle is available for a starting MSRP of $16,095 (Includes A/C tax)
Make Your Move
Don't miss out on this incredible opportunity. The Chevy Cruze looks and feels like a luxury vehicle, and has next-level technology, all while being priced very affordably.
To find out more about how to get your very own Chevy Cruze, contact us today!